Small Business Spotlight: Tacos El Porky
This casual taco spot brings Mexican flavors to Downtown Miami as the neighborhood's gastronomy continues to revive.
Aug 23, 2022 · 4 Minute Read
---
Tacos El Porky restaurant owner Jose Antonio strongly believes food influences memory. With this in mind, he combined his sentimental connection to his hometown in Mexico with the flavors of food he grew up eating to transport him back home.
Named "Best Tacos" in Miami New Times' Best of Miami® 2022 issue, Tacos El Porky ("El Porky" for short), specializes in… well, you guessed it… pork! The taqueria has only been open for eight months, but is already known as Downtown Miami's staple spot for delicious 'tacos al pastor.'
Can you tell me more about your establishment, Tacos El Porky, and why you chose to open this restaurant in Downtown Miami?
Tacos El Porky opened in November 2021, and we are still relatively new. We saw a need for a product (Mexican gastronomy) that was lacking in Miami, so, having been born in Mexico, I decided to do it myself. I focused on the connection I have with the north side of Mexico, Tijuana. Our style of food is different, unique and very specific to the part of town where I grew up. It's simply what we know, and… well, I don't like to use the word 'authentic'… it's just what we do. Why specifically in Downtown Miami? Because we saw a future projection here, and believe this area will be similar to the 'boom' it had in the past. It's Downtown, it has to be the epicenter of everything.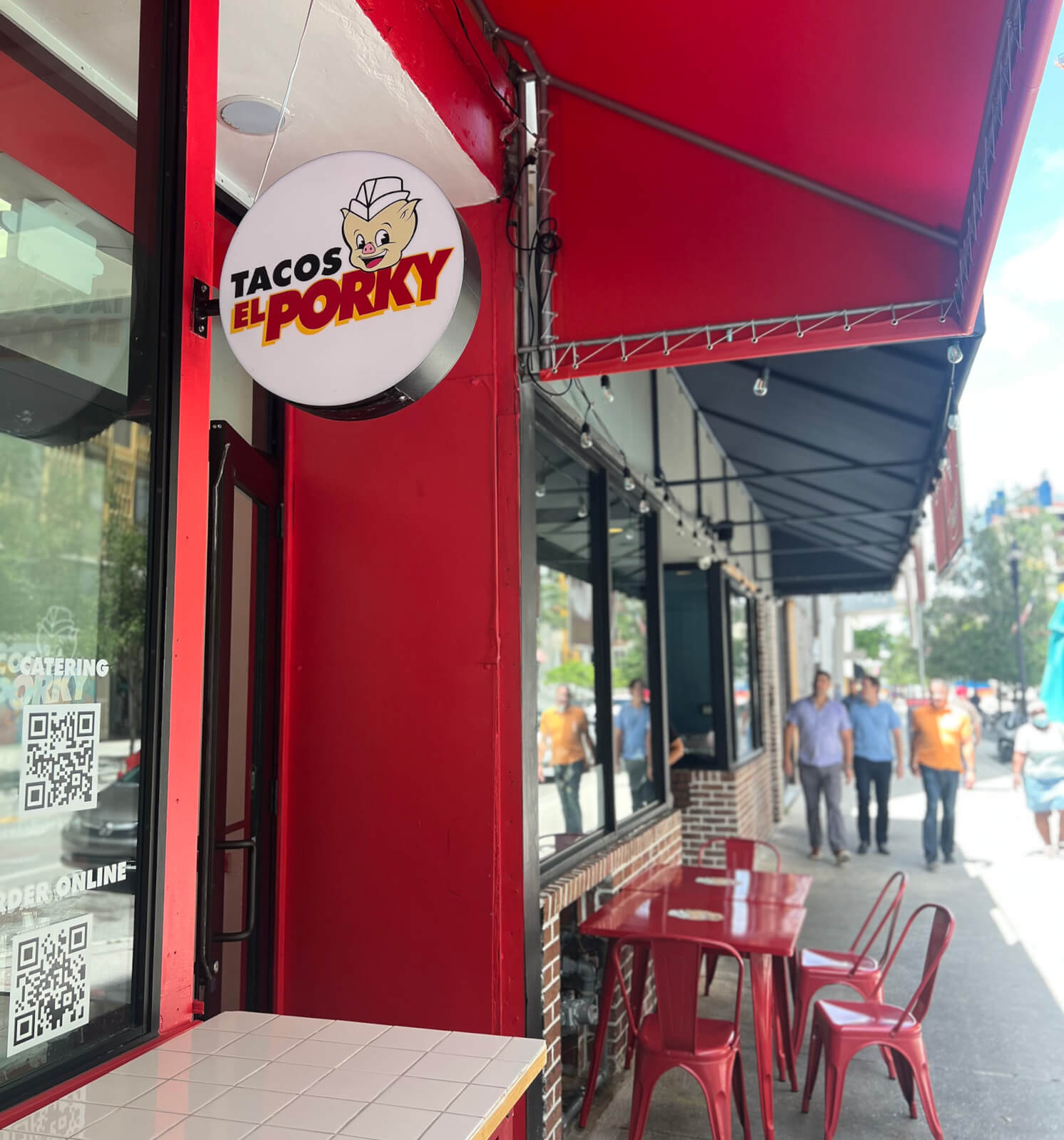 Outside Tacos El Porky, Downtown Miami
You mentioned you don't like to refer to the food your restaurant serves as 'authentic'… Why is that?
I think if you have to use the word authentic to describe your food, it's because it's not. We don't have to say it, we let people say it. With the knowledge and culinary background my team has, we focus on doing things right. That's something I learned at one of my favorite restaurants in Paris, Le Relais de l'Entrecôte. They only do one thing, but they do it better than anyone else, which is the entrecôte. It's the only thing they do. We have branded our style of cuisine based on that mentality. El Porky only sells pork, hence the name. It's the only thing we do, nothing more. We are not diversifying.
You mention that your business experienced an upside during the pandemic. Can you explain what that was?
One advantage of the pandemic was that there were options and there were opportunities, we grabbed three. That is, three Downtown Miami locations in less than two years. We believe that we were the ones who brought this type of cuisine to Miami before the "big names", which are now all fleeing here. So, we pride ourselves on being the first, and the real first.
El Porky is just one of the restaurants your hospitality group owns. Can you tell me about the others?
My hospitality group is called Baja Restaurant Group. We are a team of four people and manage four venues, soon to be five. We have been Downtown tenants since November 2017. In 2018, we opened our first taco spot in Downtown called PEZ; at this time buildings on Flagler were barely built. That location started as Mexican seafood, specifically from the Baja area in northern Mexico. This is the restaurant that became 'Instagram famous' in 2020. It's currently closed for renovation, but we're excited to re-open in September stronger than ever. Then, during the pandemic, we were forced to pivot when opening El Primo, which is located right next door to El Porky's and specializes in 'birria'. Our fourth venue is a hi-fi cocktail bar called Miami Sound Bar, opening next month on 2nd Avenue. My business began in this area. First with PEZ, then El Porky and El Primo, and soon to be Miami Sound Bar… and… well, we hope to expand further, we want to take these names around the world.
Did you know?
The restaurant's 'tacos al pastor' recipe is exclusively from Tijuana
The team is set to open a second Tacos El Porky location in Hell's Kitchen NYC
Baja Restaurant Group manages four venues all located in Downtown Miami
El Porky's sister restaurant, El Primo, is located right next door
Are you a small business owner in the Flagler District or Wynwood area? We're looking for local small businesses to showcase! Contact us to submit your business for consideration for a future Small Business Spotlight.
---