Small Business Spotlight: Floranza Flowers
The owner of Downtown Miami's very own secret garden and flower shop talks us through the importance of taking care of green spaces, supporting the community and bringing a positive social impact through her business.
Nov 14, 2022 · 5 Minute Read
---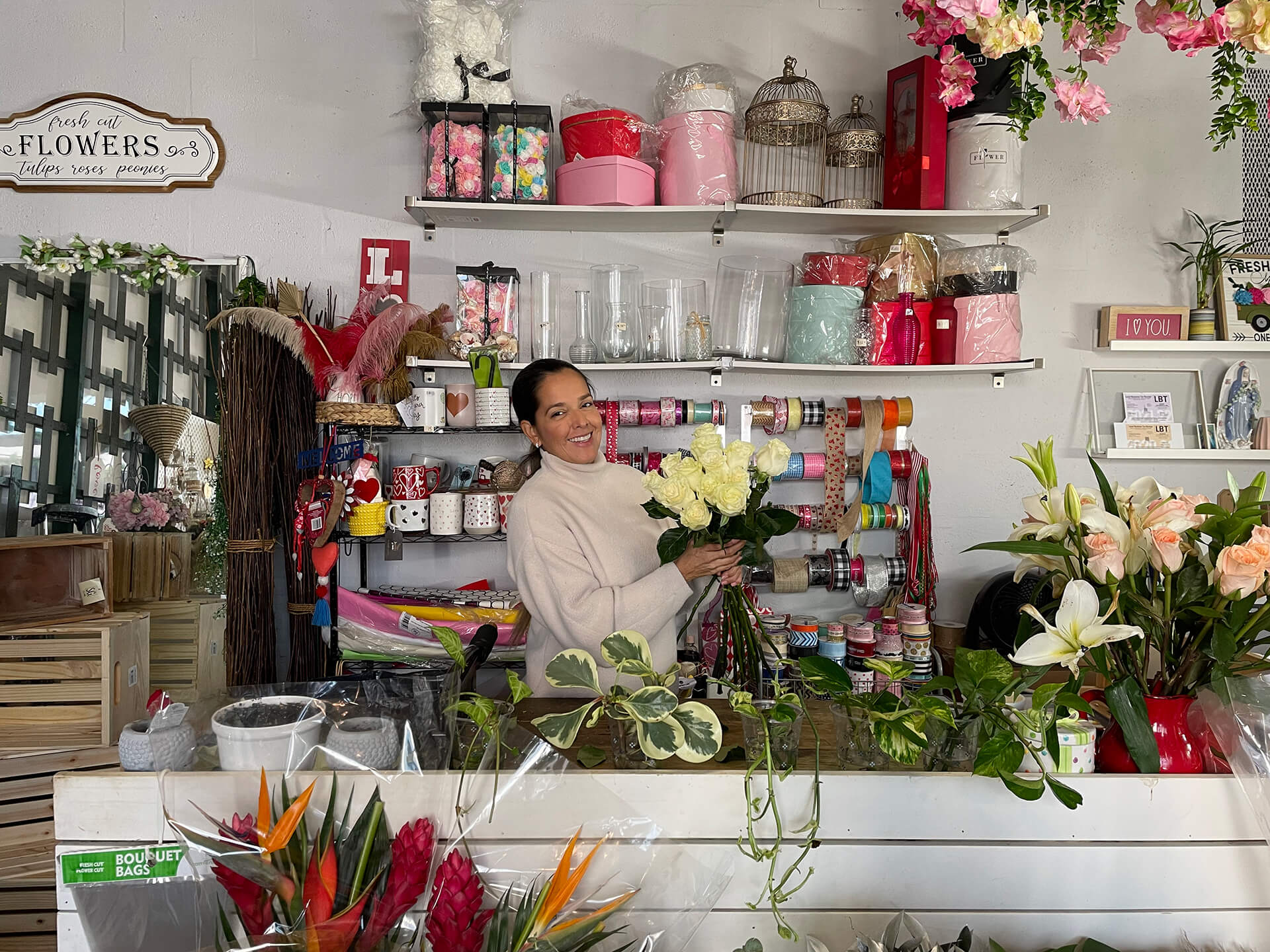 Diana Uribe, Founder & Owner of Floranza Flowers
Diana Uribe is a single mother who moved to the United States with her son eight years ago. Fast forward, she is now the Founder and Owner of Floranza Flowers, an open-space flower shop that doubles as a garden in Downtown Miami. After obtaining a degree in Psychology, Diana was unable to pursue a career in the field she studied due to her inability to speak English at the time. This drove her to seek out other ways she could bring her Colombian roots to Miami while raising her two-year-old son who was not yet in school.
In this 'Small Business Spotlight' feature, we learn how Diana overcame the struggles of moving to a different country and opening her own business as a single mom.
Tell us a little about yourself and the story behind Floranza Flowers. How did you get into the floral industry?
When I came to the U.S. with my son, I was worried I would not be able to balance a job and my family. I needed to build a business that would allow me to work my own schedule… At first, I was inspired by Colombia's rich flora to learn more about flowers. Once I did more research, I became inspired. My flower business started out by introducing Colombian roses to Latin supermarkets. However, after the pandemic, it became difficult for me to sell to supermarkets… I would rush around daily, driving from here to there, with buckets of flowers in my car. It was Godspeed that the manager of my parking garage saw me struggle and offered me a space right next to the parking entrance… I loved the idea of having a green shop here in Downtown. I was thinking differently now.
Why did you choose to open Floranza Flowers in Downtown Miami? Are there other flower shops in the neighborhood? What makes yours stand out from the others?
It was a dream come true. I always pictured my shop as an open space, without a door or air conditioning. I wanted something welcoming and natural, where my clients could walk in and feel like they are in Downtown's little green spot… When I opened this shop, I wasn't thinking about competition. I was thinking about giving my customers something different and unique. They have the ability to come in, tell me what colors they like, or what type of flower(s) they normally buy, and I create something tailored to them. None of my flower or plant arrangements are alike.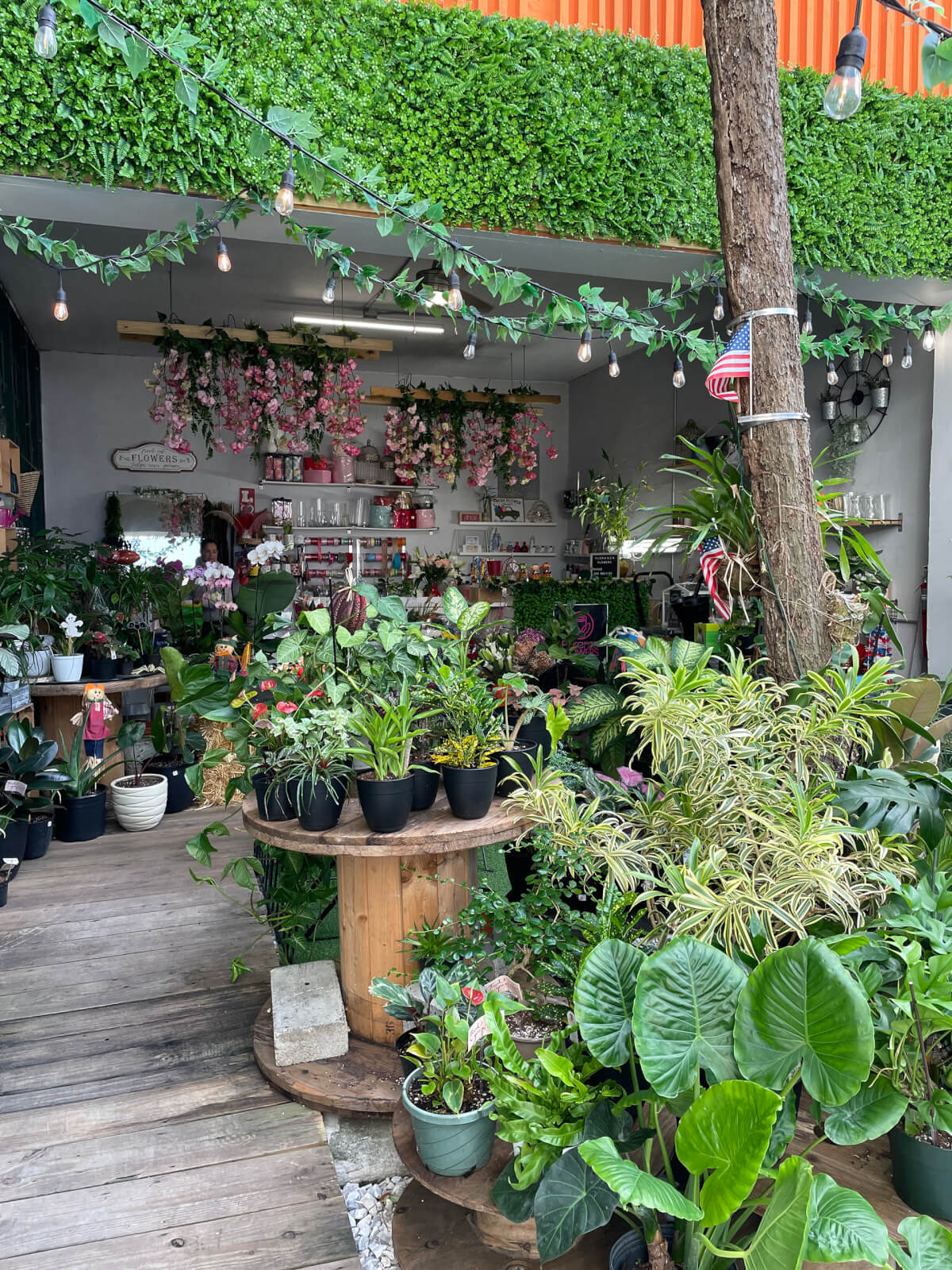 Can you share the importance of being a green space in Downtown Miami?
When I first came to Miami, I really liked Brickell and Downtown because it reminded me of where I lived back in Colombia. Living with a child in Downtown drove me to appreciate the perks of being able to walk around and meet families within the community… I wanted to represent this idea of "community" and "green space" in my shop. I created a little garden for families to stop in and enjoy the plants… I hadn't seen any flower shops or green spots in this area until opening mine.
How do consumers hear about your business? Word of mouth? Local residents? Online marketing?
When I first opened the shop, it was all about word of mouth. Initially, I only had Instagram, but the language barrier prevented me from excelling on the platform. Now, I am taking English classes and am more confident trying new online marketing tools to increase awareness. We were recently added to Google Maps and are now working on a website to expand our reach.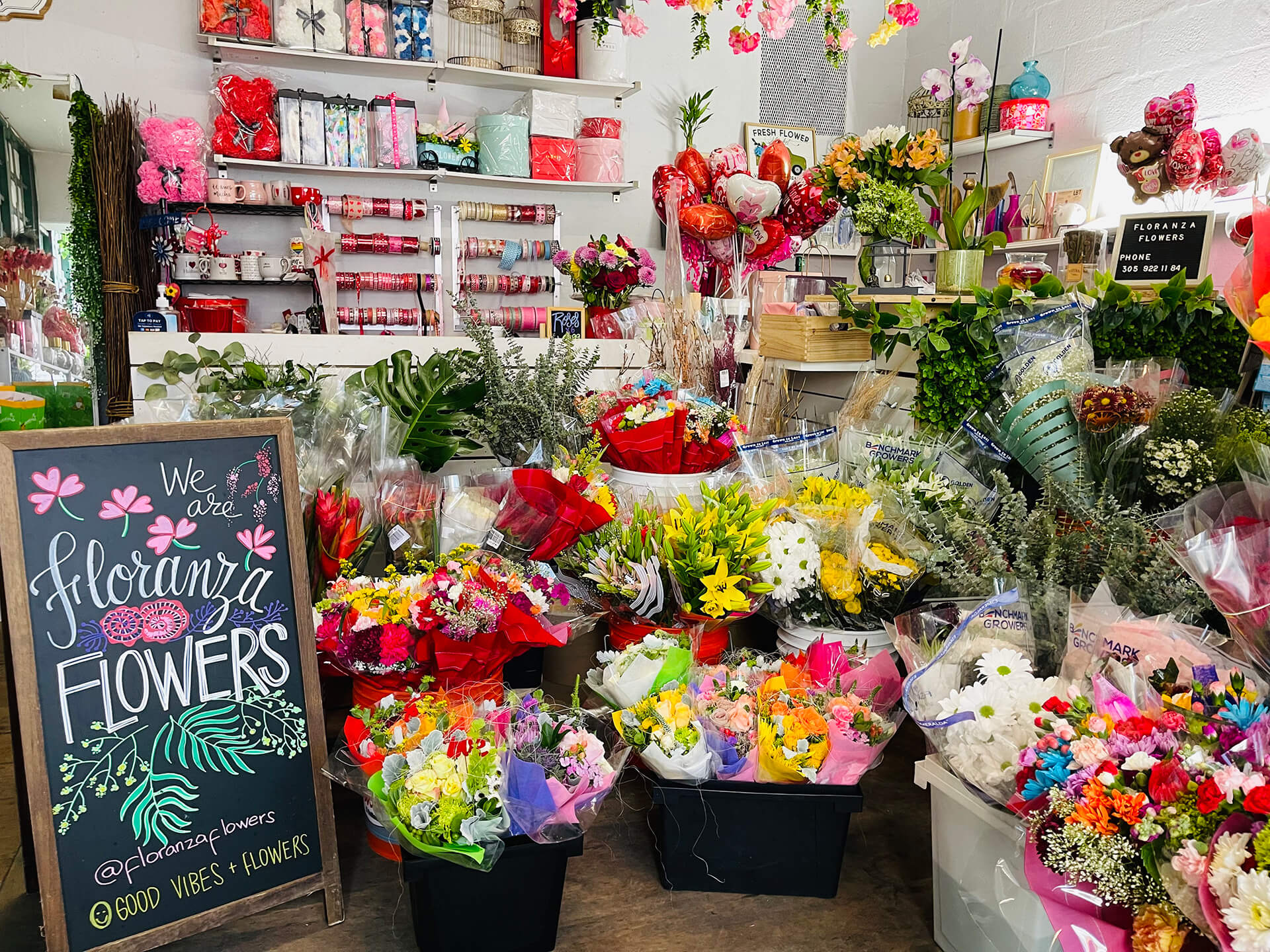 Is there anything else you would like our audience to know about you or your flower shop?
I love to support the community by doing what I do. To me, giving flowers means making someone's day better… I keep my flowers in the shop for only two days; afterward, I replace the flowers with new ones. So, any flowers left over are gifted to people in the community. I leave flowers at my neighbors' doorsteps… The tradition of 'giving flowers' has been lost over time; however, people really appreciate receiving flowers. Another thing I enjoy doing for the community is being conscious of the homeless that we share the Downtown area with. In Colombia, I was very focused on social projects. There were a lot of vulnerable people in my community. So, when I see the less fortunate, I try to give them something to help out with, like removing trash to keep the natural space clean.
When people think of flowers, they think of colorful, warm, thoughtful, and overall happy thoughts. What does the word mean to you?
To me, flowers are serenity and peace… I feel very identified with my business because I am always trying to look for ways to make people feel calm and happy. I offer them a space where they can feel at home, and bring in their pets or kids, and hang out or have a coffee. I offer water and treats to dogs and little toys for kids to play with. I think that it's very important to think about green spaces in Downtown. Everyone in the area is running around… When they take a moment to stop by my shop, they can slow down, smell the flowers, and enjoy this peaceful space.
Did you know?
Diana's 10-year-old son can tell you the name of every flower in the shop
Diana offers a service to revive and take care of your plants
The most popular plant at Florenza Flowers is the eucalyptus for all of its health benefits
Looking to gift something special to someone special? Want to bring more life into your home? Head to Floranza Flowers and Diana will help you find exactly what you are looking for!
---