---
Small Business Spotlight: Estación Central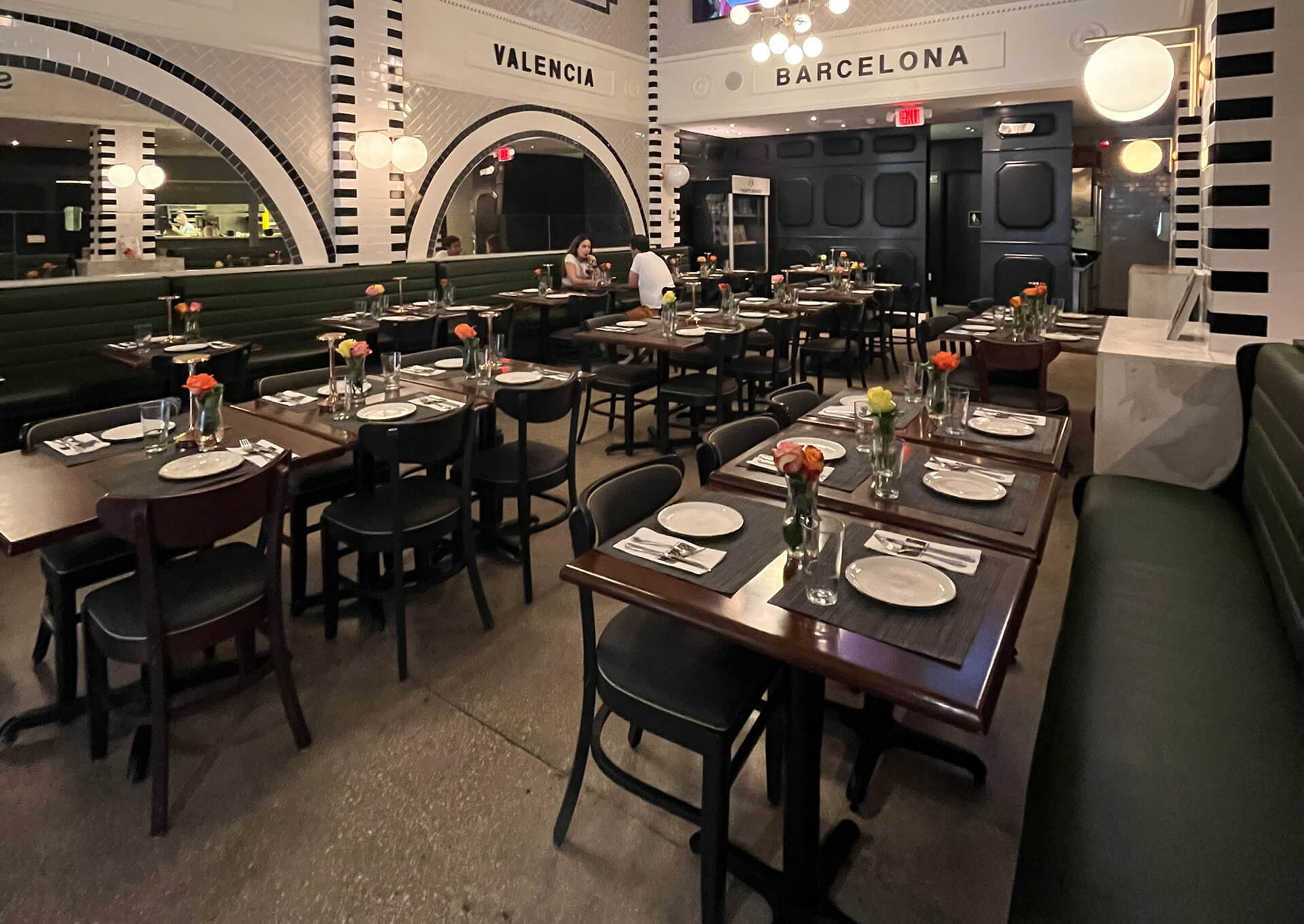 Sangria, tapas, and flamenco are just a few delicacies that make up Downtown's new authentic Spanish restaurant.
Strolling down the streets of Downtown Miami, one is bound to stumble upon the historic City National Bank, which dates back to 1925. While the architecture has remained the same, the Beaux-Arts building has been completely reinvented into a beautiful boutique hotel, the Eurostars Langford. Situated to the right of the hotel is what looks like a hidden metro station but is actually a gastronomic proposal named Estación Central. With a menu that unites Spanish tradition with trends, Estación Central takes you on a journey through Spain with its ambiance and emblematic dishes.
We sat down with Spanish Chef and Partner Cesar Gonzalez, who explains how he pursued his dream of returning to his roots by bringing the best of Spain's traditional home cooking to the US capital of Latin America, the city of Miami.
Can you please tell us the story behind Estación Central? What inspired the authentic Spanish cuisine you offer and how does it connect to your own identity?
At the age of eight, I was already cooking in my mother's kitchen. Since then, I have lived in 52 different countries and gained over 35 years of experience working in all types of kitchens around the world. I've had the opportunity to direct around 36 restaurants in Miami for the Valls Group (such as La Carreta and Versailles), and recently, I was given another exciting opportunity; one that had been missing in my professional career. I always dreamt of opening a restaurant where I could cook exactly the way my mom and grandmother did when I was a kid back in Spain, and Estación Central gave me the chance to pursue that dream.
You worked at several Michelin-star restaurants and with chefs all around Asia… How did your experiences influence the way you choose to run the kitchen at Estación Central? Or you as a Chef? Why did you choose Spanish cuisine over Asian?
I worked in several restaurants around Japan, Thailand, Vietnam, and other surrounding places… My experience working for a three-star Michelin restaurant in Spain is one that I'll never forget. While I started from the bottom as a kitchen assistant, after working closely with the restaurant's Executive Chef, Pedro Susana, he recommended that I pursue other Michelin restaurants around the world…It was around that time that I became a fan of (and expert in) Asian food. However, it wasn't that long after that I circled back to my Spanish roots.
Is there meaning behind the name, Estación Central? What does the metro station interior design theme represent?
"Estación Central" means central station, and I'm a big fan of trains and train stations! I love the scene… People waiting for a train, saying goodbye to a loved one. To me, that culture is lost. The metro station design concept inside the restaurant portrays the different transits that travel to different regions of Spain…all the trains coming from the different regions meet here. So, the theme goes off the idea that to achieve the perfect Spanish cuisine, you must visit the different regions in Spain. In other words, to try the best "paella" in the world, you would have to go to Asturias, and to try the best "fabadas" you'd go to Valencia. Even though each region has its own emblematic dish, Spain has multi-diverse gastronomy.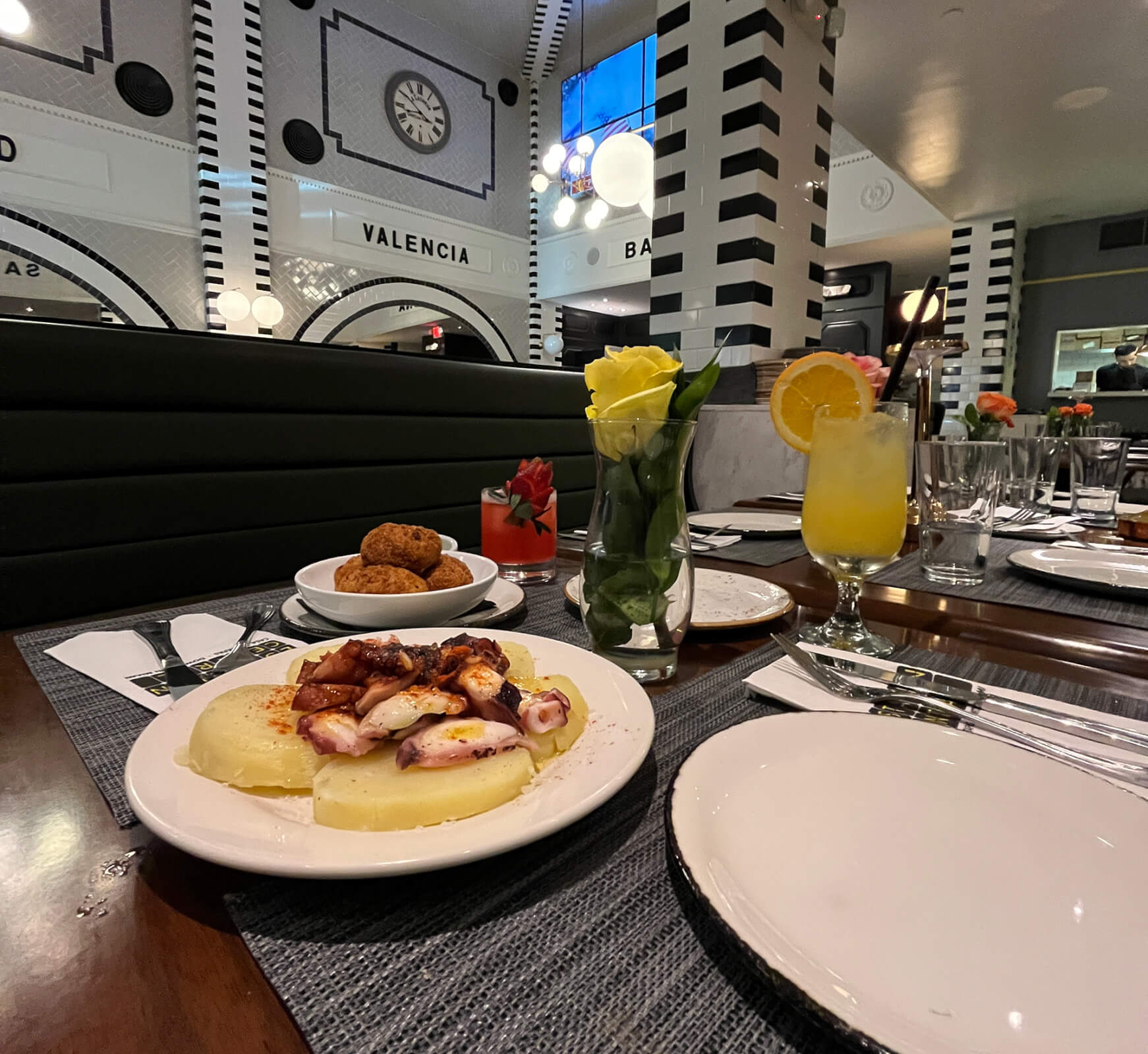 Galician style octopus and ham croquetas from Estación Central, Flagler District
Estación Central is in Downtown's historic Miami National Bank building. What inspired you to open a restaurant in Downtown Miami?
I've lived in Miami for 12 years and have seen extraordinary changes take place in Downtown Miami. I've seen it at its best, and its worst, and now, luckily, I am seeing it build back up… Restaurants are fuller, more emblematic sites are being established, and people are excited to witness what the neighborhood will soon become. Downtown Miami is a place full of life and I have a lot of faith in the future of this neighborhood.
Tapas are the fundamental base of most Spanish restaurants… What are some popular dishes that make Estación Central stand out? and can you share with us the unique "touch" you add to each dish?
My favorite dishes to cook are the ones that require a slow cooking time… It allows the flavors to fully emerge within the product. We serve a lot of emblematic dishes like the "huevos "estrellados" and "jamón ibérico", which we make from scratch. The "guiso", "fabada" and "carrilladas" are some other popular dishes that keep customers coming back for more.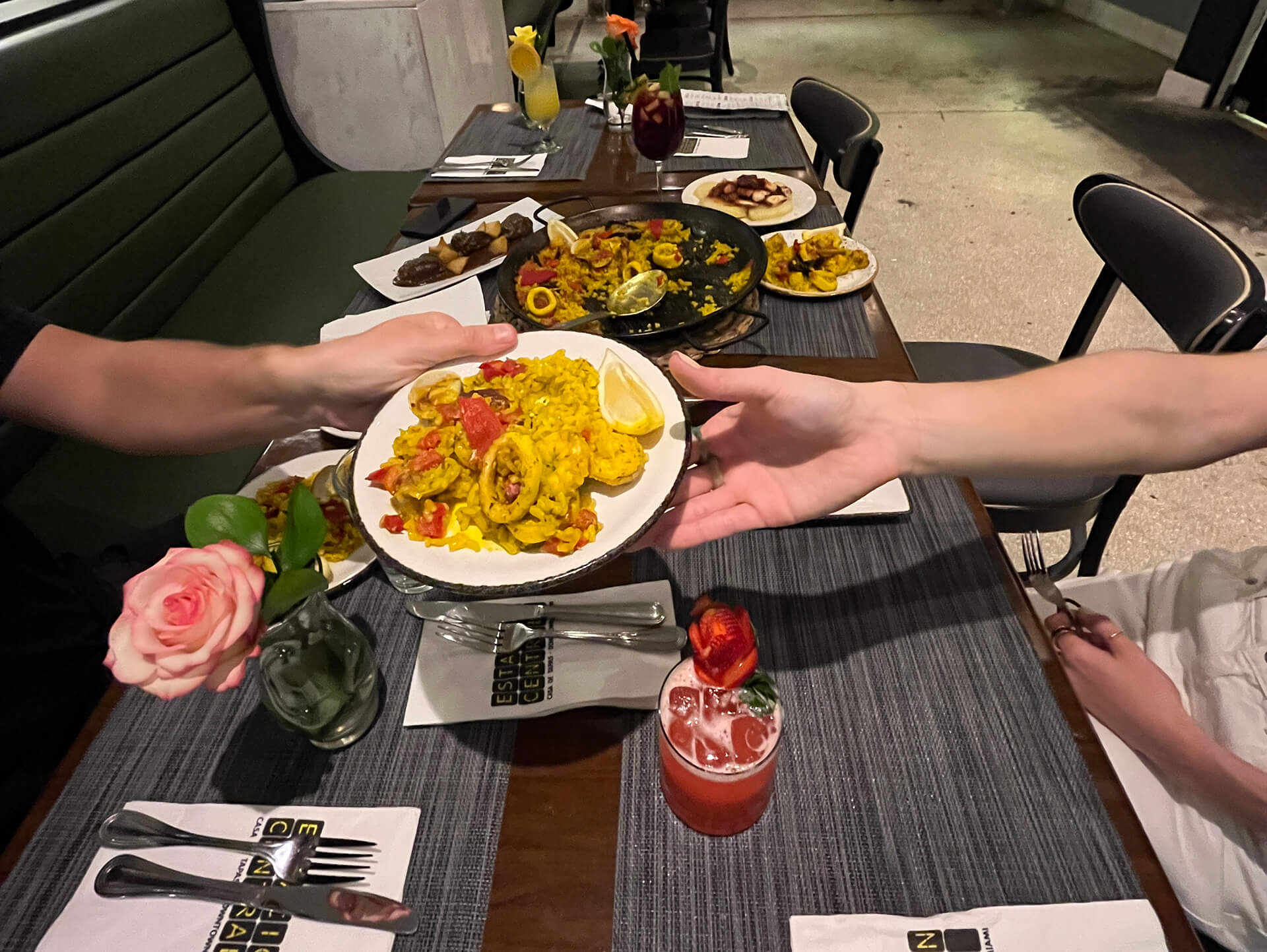 Seafood paella from Estación Central, Flagler District
Did you know?
Spanish cuisine has a distinctive garlic flavor, which the restaurant imports directly from Spain to emphasize the authentic flavors
The menu is designed to imitate a metro station map
Estación Central offers a daily happy hour from 4-7 pm
Jump on board and indulge in a never-ending journey of authentic Spanish flavors at Estación Central.
This hidden gem fills up quickly on weekends, for obvious reasons! Book your table today.
---