Small Business Spotlight: Downtown Strength and Conditioning
Meet Jessica Bergman, premier gym owner and creator of the culture and community built within it.
Aug 12, 2022 · 5 Minute Read
---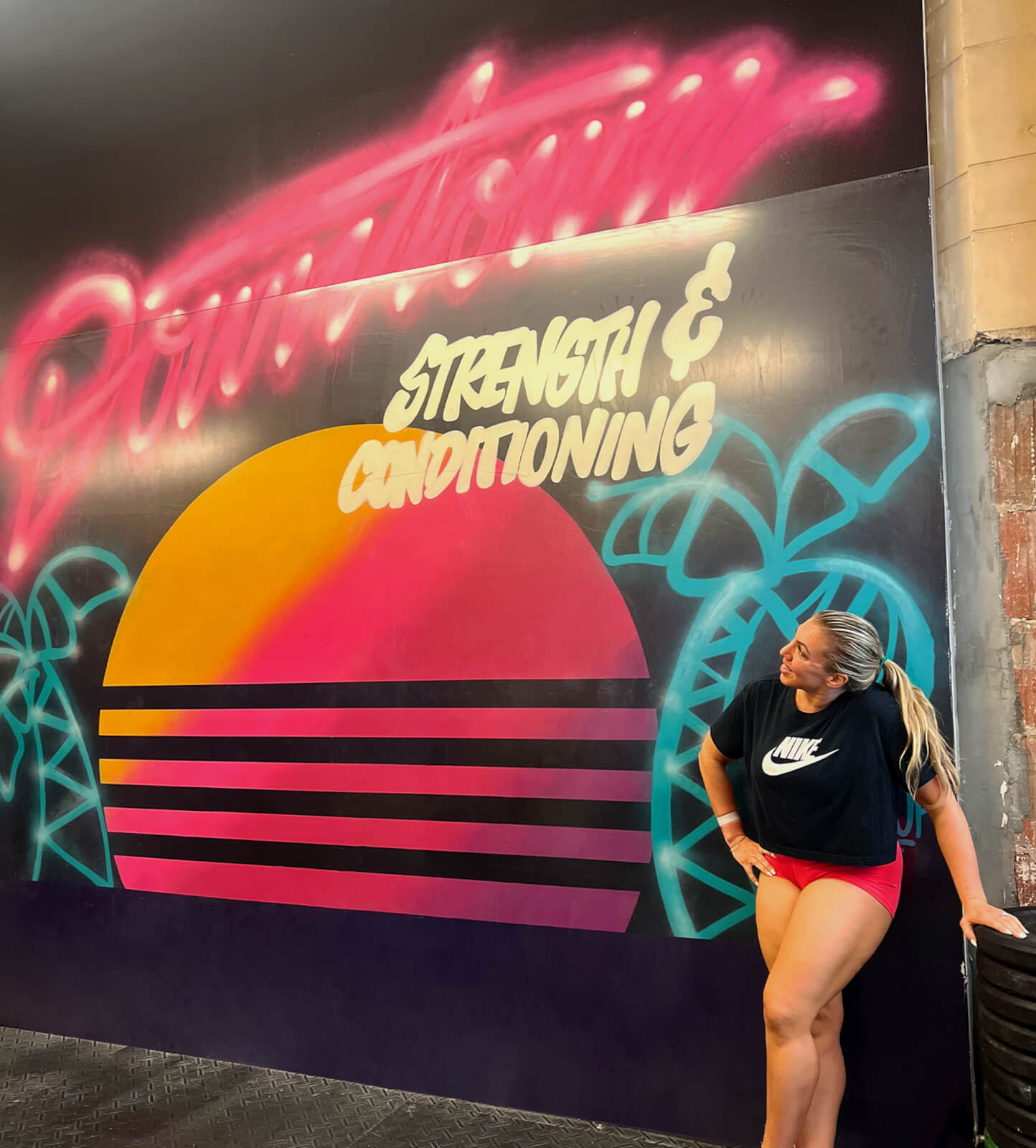 Located in the heart of Downtown Miami inside a historic landmark lies a premier fitness facility that combines the roots of old Miami with the "new" Downtown Flagler District hype. Downtown Strength and Conditioning is an inclusive, boutique-style gym that caters to all walks of life, offering group classes, personal training, open gym space, and workouts that are tailored just for you.
Jessica Bergman, Owner of Downtown Strength and Conditioning, walks us through the sprints and hurdles her business has overcome, and faces to this day, that shaped her career and gym's success. Warning: prepare to break a sweat!
What inspired you to open your gym in Downtown Miami?
I always felt as though there was a void in the area that needed to be filled. There wasn't a gym that was inclusive in Miami. Downtown had started to change and accelerate, and so did the local businesses who contributed to what we wanted to do. When I was looking for a space, it was very difficult (space-wise) to find a place where we could do what we do. A place we could call home for many years to come, as Miami continues to grow. As a native New Yorker, I was drawn to the history that came with the Ingraham Building. What you see today is its original landmark. Even when we have expanded, we have made sure to keep the bones of the building. We have this old- meets- new vibe. We have the murals; we have the gym equipment. And then we have the renaissance high ceilings. You really get a Miami feel when you're at my gym.
How does your gym differ from traditional gyms?
Being a boutique-style gym makes us very different from the larger LA Fitness and Equinox gyms. We have the intangibles. Every single thing you see in this facility has a story, as far as a vendor or local friend or someone who contributed. Local artists have hand painted the murals on all of the walls around us. The "Never Give Up" is written all over in memory of my old trainer and mentor who passed away right before I opened my gym. We have established our own brand, but we are also a CrossFit affiliate – There are only 24 CrossFit affiliates in Miami-Dade. We also tailor every aspect of the workout to fit each client's abilities and needs. I feel really confident in the product we're putting out there and how we're constantly growing to meet the needs of our community.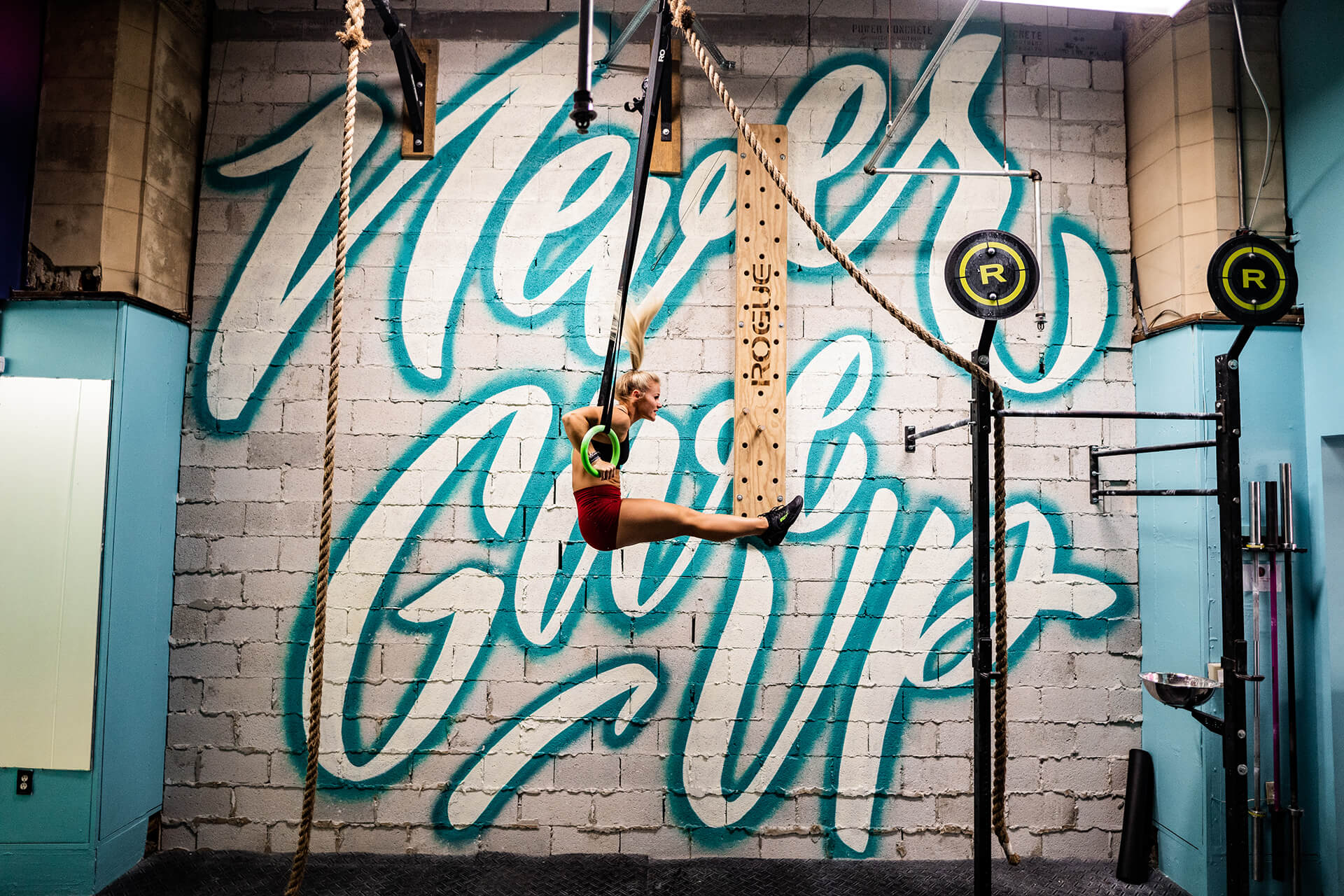 Rings exercise at Downtown Strength and Conditioning
Where are most of your members coming from?
Because we are situated in such a prime location, we mainly attract people in the Brickell and Downtown surrounding areas. Majority of our members walk, bike, or run to my gym. My team of 9 coaches, including me, all live, work and play here in Downtown. Some members live elsewhere and commute here for work. We also frequently get visitors who are in town for a brief amount of time and want to get a good workout in while they are traveling. Some travel from other areas if they work nearby, but now that many people are remote it has become a very local clientele. We also offer a ton of time slots for classes, so members have flexibility to choose whatever time fits their schedule.
Do you find that you have any competitors in the area?
If you are doing something unique, you have no competitors. Even if a new gym opened down the street tomorrow, are they doing the same thing? No. We can very well co-exist with other gyms because we're different. The flavor of fitness we provide and the community we have built here is so unique. We can't control what's happening outside of the doors of this gym. But we can control what we are doing inside this gym… and to have a place where no matter who you are… all walks of life… everyone is the same here. We have people who met here and later got married. Typically, people who are into fitness want to be around people who are mentally healthy. If you go to a gym like ours, you're meeting like-minded, good people. That's not easy to find in Miami.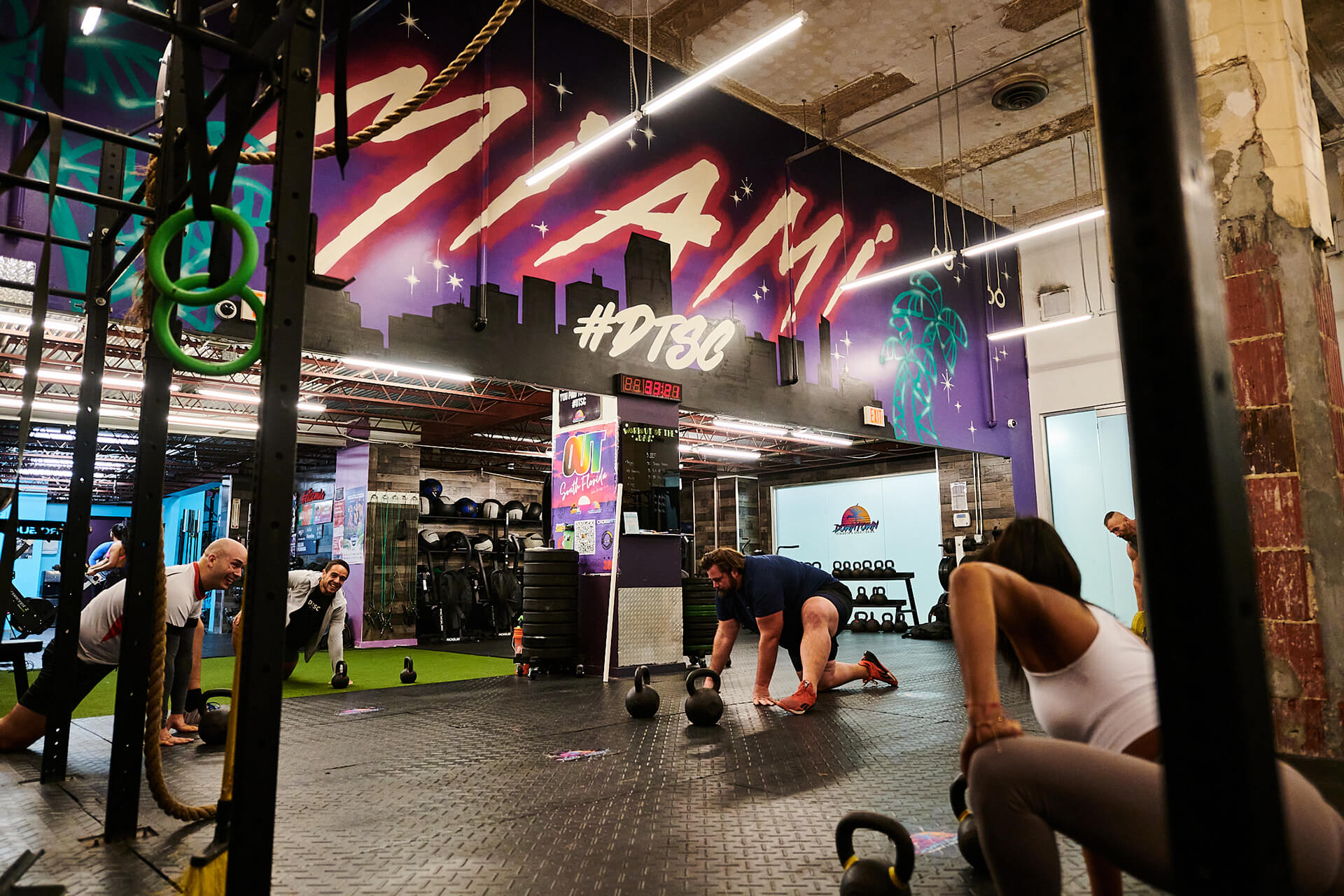 Kettlebell at Downtown Strength and Conditioning
What is your thought on the downtown revival and neighborhood resurgence happening in our area?
We've been open almost four years, and we've seen the Downtown ensemble accelerate over the years, especially now. There are many other local shops that have the same mission as me- which is to bring life to the area. Every time a storefront isn't empty anymore, it contributes to the neighborhood, and heightens the businesses coming. A win for one is a win for all of us in this neighborhood. I am a strong believer that we are headed in the right direction.
Did you know?
Strength and Conditioning offers locals 2 complimentary classes
The facility is dog friendly, so members can work out and have their pooch present
Strength and Conditioning Coach Joseph Garcia placed 4th in the USA Weightlifting 2022 Senior Nationals Competition
Jessica is the Vice President of the Out Foundation – an LGBTQ+ organization that helps athletes that are coming out use fitness as a form of therapy
Whether you're a weightlifting champion or just beginning your fitness journey, Downtown Strength and Conditioning will bring out your best self. Try a class!
---