Once Upon a Founder: Codiversity
Embarking on a journey that cultivates opportunities.
Sep 27, 2023 · 4 Minute Read
---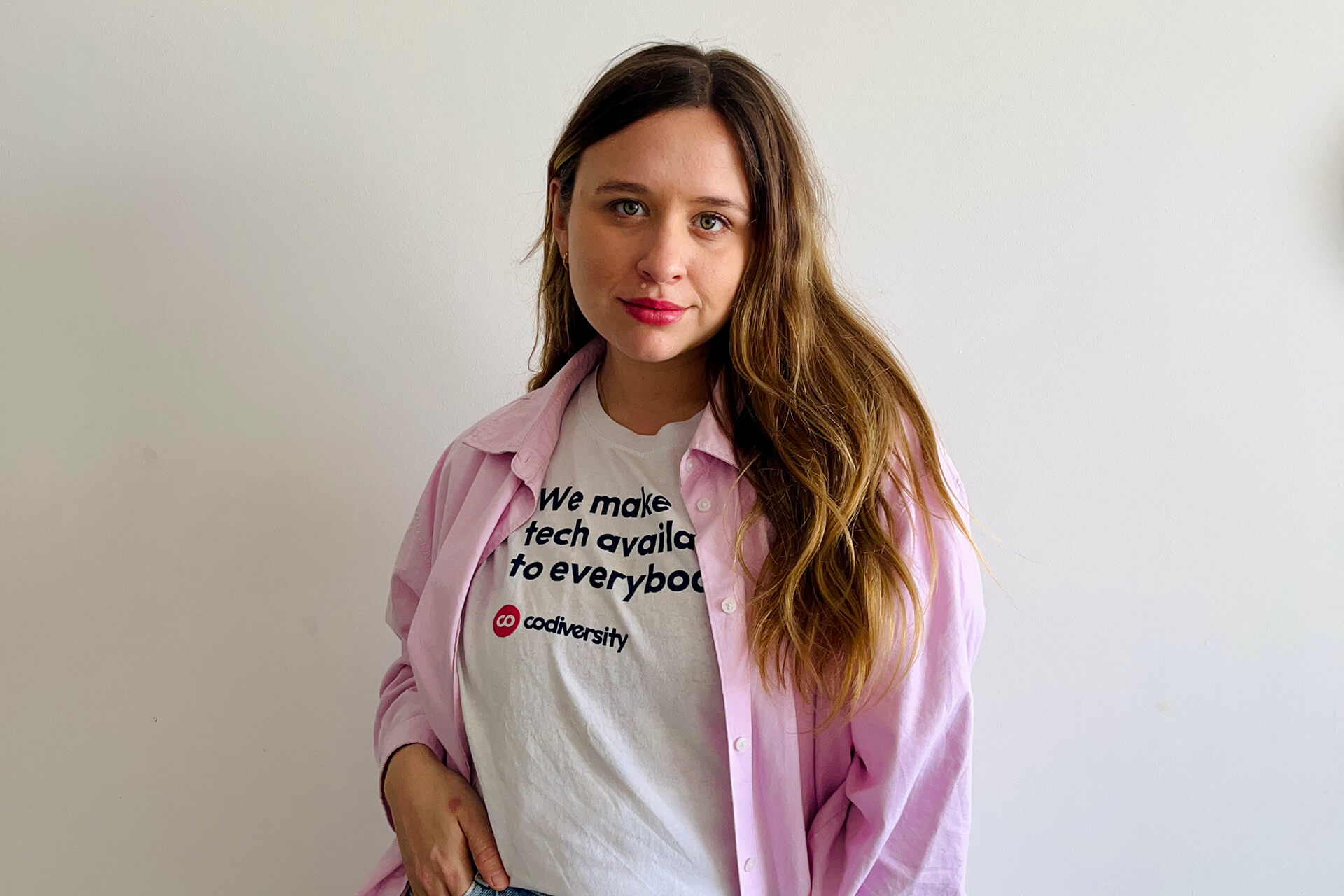 Victoria Suárez Araújo - CEO & Co-Founder, Codiversity
This story was written by Mauro Berchi as part of the "Once Upon a Founder" series, where Mana Tech aims to provide a behind-the-scenes look into the unique and impressive origin stories of Latin American startups.
"With a client and without a name."
That was the title of Codiversity's inaugural presentation. Victoria Suárez Araújo, a 31-year-old from Montevideo, linked her ongoing discussions with her co-founders, even before she officially became one, to a need voiced by a potential first client.
In Araújo's mind, the problem was very clear, as evident in the entire tech ecosystem: there was a high demand for talent, yet a high barrier for newcomers entering the job market. This was a direct consequence of the Fourth Industrial Revolution surge and subsequent education programs that often fell short of meeting market demands.
In this context, Victoria, not yet 30 and already a mother to Benjamin, whom she welcomed into the world at 17, decided to confront the entrepreneurial challenge once again. Alongside Diego Raffo, Enrique Mejía, and Sebastián López, they recognized that their Wolox experience, where they shaped and oversaw the technology education sector for the company later acquired by Accenture, provided them with the necessary edge to seize this opportunity. They understood the need to marry technology with education while remaining committed to making a social impact, a principle the group consistently prioritized.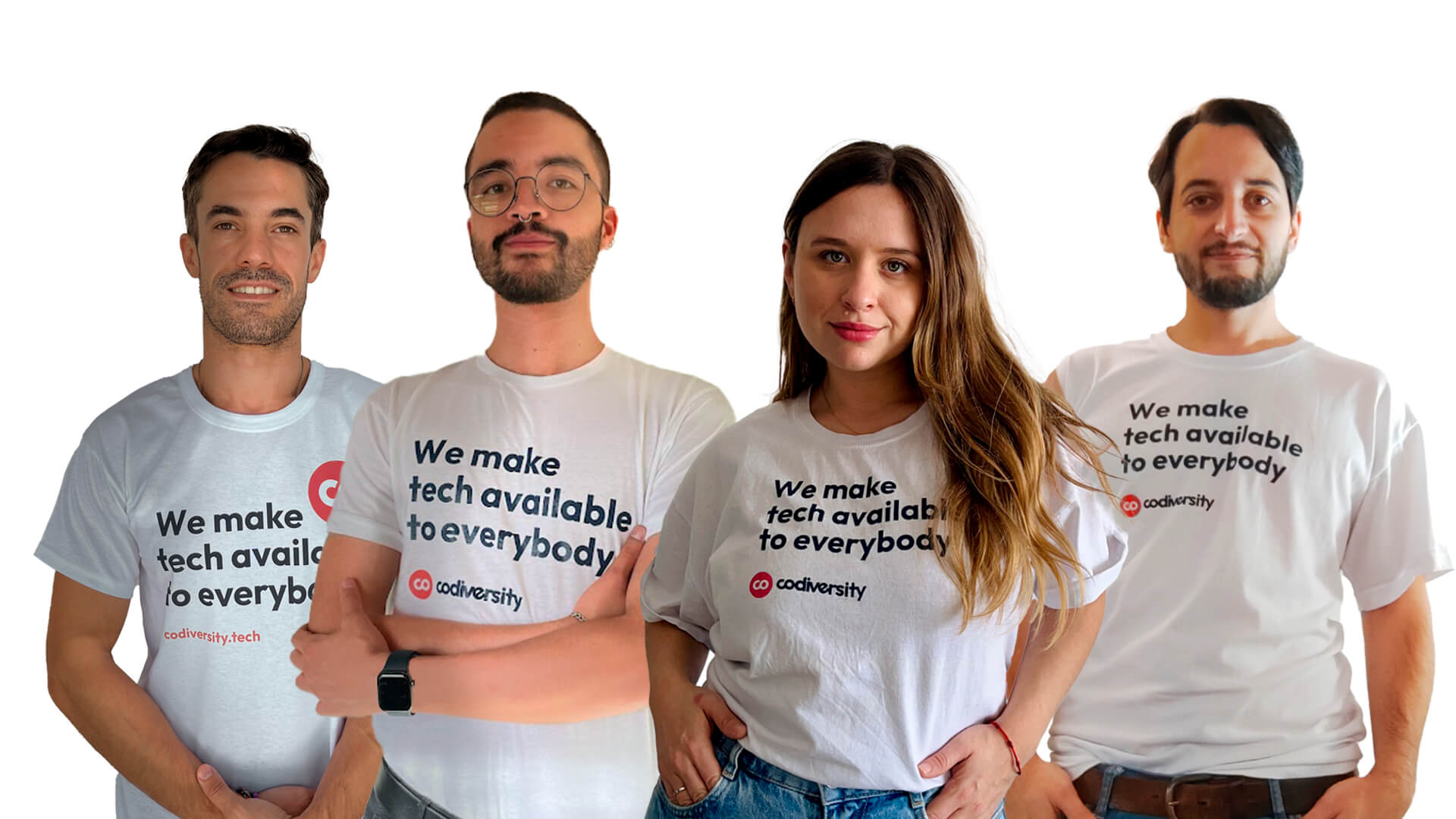 From left to right: Sebastián López: Angel Investor/Strategy Advisor & Co Founder, Enrique Mejia: Chief Product Officer & Co Founder, Victoria Suárez: Chief Executive Officer & Co Founder, Diego Raffo: Chief Learning Officer & Co Founder
And thus, Codiversity emerged; with a mission to bridge the digital divide, to grasp the future world, and to champion technological inclusivity. They recognized the incongruity where many companies competed for talent with existing experience, while, simultaneously, numerous individuals aspired to enter the technological job market, patiently awaiting their turn.
Version 1.0 of Codiversity introduced a service-oriented approach: utilizing an Artificial Intelligence system to assess the skills of new hires, thereby creating their skills profiles. Subsequently, they operated as a software factory. In other words, the initial endeavor of this third venture, marked by true determination, provided IT solutions with the unique feature of providing opportunities to well-trained but inexperienced individuals. However, they were self-sufficient and understood that securing capital without acquiring clients was akin to putting the cart before the horse.
The change in direction and a profound comprehension of the educational technology market were catalyzed initially by the COVID-19 crisis and were further solidified when Mana Tech entered their path. The program was Building the Bridge, developed in collaboration with the Uruguayan incubator Ingenio, in March of this year.
This pivot was, once again, a testament to the team's acute understanding of the evolving circumstances. While some clients initially engaged Codiversity for technological solution development, upon discovering that the company provided training and certification for inexperienced staff, they urged Araújo and her team to extend this approach to their own employees.
In the midst of a pandemic, Codiversity possessed both the technical and pedagogical resources necessary for the sudden onset of digital transformation. They shifted towards a B2B model and successfully secured capital in their first round of funding, all the while maintaining a grounded approach.
Today, Victoria spearheads her third startup without losing sight of their most vital societal contribution: the pilot program they've instituted in the Unit No. 5 of the women's prison in Uruguay. Here, personnel from the correctional institutions select suitable candidates for acquiring tech-related knowledge.
In this regard, Codiversity collaborates closely with the Uruguayan Ministry of the Interior, Globant, the University of Montevideo, and the Non-Governmental Organization Creemos. Araújo is cognizant that those who haven't followed traditional educational paths often encounter greater hurdles in acquiring technological skills. Nevertheless, she champions the measurement of the recidivism rate among these women, who receive a year of training before reintegrating into society.
Because the concept of opportunity admits multiple interpretations: it may be that, from the right moment, an inclusive startup emerges. Yet, even more valuable is that this project never ceases in its pursuit of inclusion, providing opportunities to those who genuinely need them.
Make sure to follow us on Instagram and LinkedIn to keep tabs on all things Mana Tech!
---