Mana Contemporary Debuts Derrick Belcham's 'The You Voice'
The nine-channel video installation will be on display at the Jersey City campus through January 28, organized by Irene Mei Zhi Shum and Kele McComsey.
Dec 12, 2022 · 6 Minute Read
---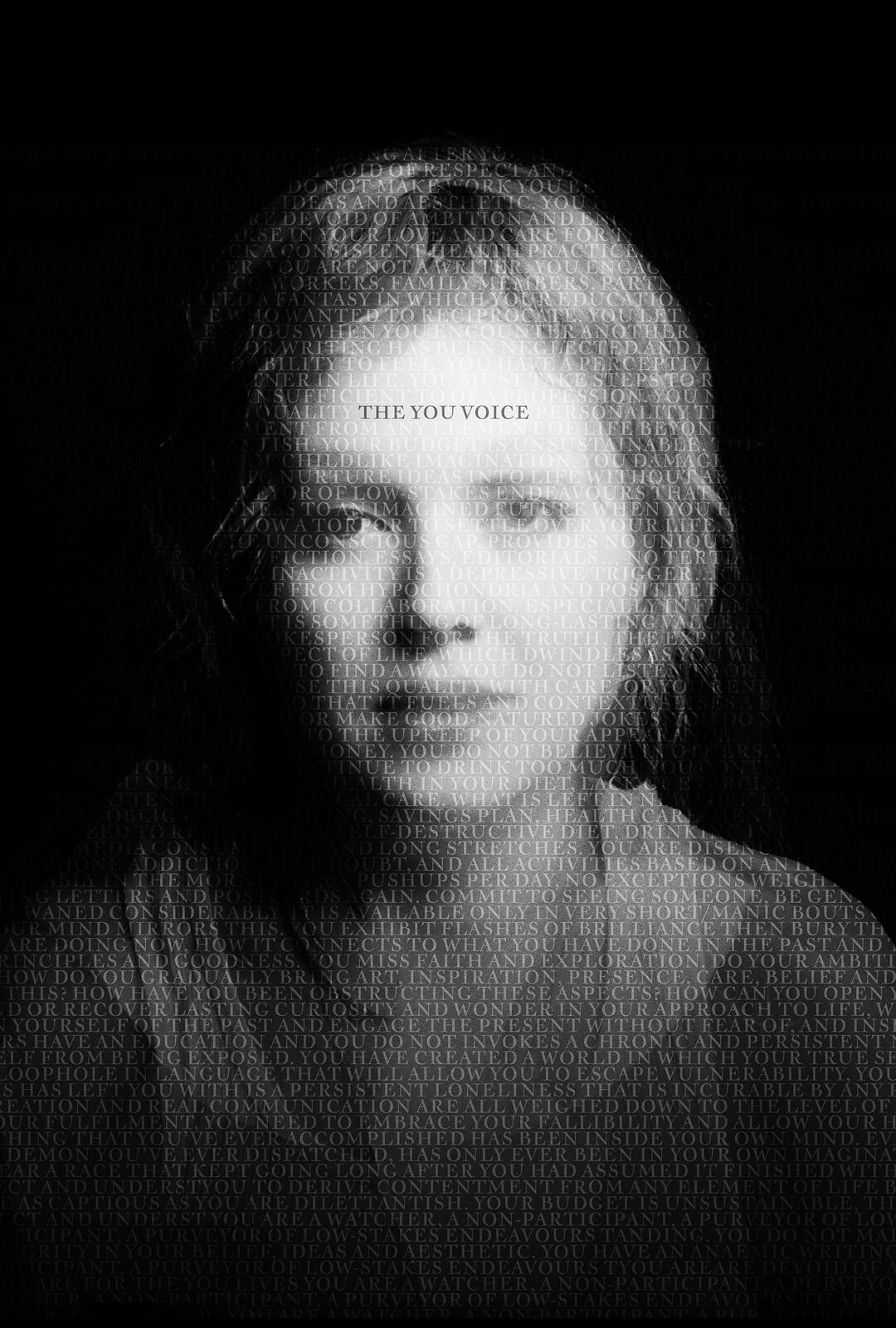 'The You Voice' by Derrick Belcham
This winter Mana Contemporary debuts, The You Voice, a nine-channel video installation by filmmaker Derrick Belcham. This powerful work explores the often-contradictory inner voice that both drives and stalls creativity and personal agency. Filmed in black and white, nine performers speak directly and candidly to the camera. Using texts drawn from journals and memories, the nine actresses perform characterizations of this voice, their own self-critic. By inviting an audience to engage with them in a physical space, their individual thoughts are universalized, transforming self-criticism into a practical process of work-creation and exhibition, that is so desperately longed for in the body of their texts.
Each actress is filmed against a stark, black background with a single soft light source that flutters on and off in a sound-reactive relationship to the volume of the speakers' voices. Each performs three pages of material in a single long take, referred to in the industry as an "impossible monologue," in order to elicit authentic emotion and capture improvisation based on the material. They speak in their native languages of either English, Spanish or German.
Created during the pandemic, this work meaningfully grapples with the isolation, grief, hope, and revelation that we, as a society, both collectively and individually, experienced. Visitors to The You Voice may determine for themselves whether these monologues are meant as soliloquies, confessions, or invitations into intimate conversations. By courageously sharing their vulnerabilities, the performers foster connection and resilience with the audience.
On site activations and related programs will be announced in December 2022 and January 2023
Artist Biography:
Derrick Belcham is a Canadian filmmaker based in Brooklyn, New York. His documentaries, music videos, and dance films are widely acclaimed. He has worked with headline artists, such as Philip Glass, Steve Reich, Laurie Anderson, Paul Simon, Ryuichi Sakamoto, Yo-Yo Ma, among many others in the fields of music, dance, theater, and architecture. He has created works and lectured at such institutions as MoMA PS1, Museum of Contemporary Art (Los Angeles), Solomon R. Guggenheim Museum, Whitney Museum of American Art, Musee d'Art Contemporain (Montreal), Philip Johnson Glass House, Brooklyn Academy of Music, and Contemporary Arts Center (Cincinnati). His work regularly appears in publications, such as The New York Times, Vogue, Pitchfork, NPR and Rolling Stone and is screened at short, dance and experimental festivals around the world. He has taught at University of Southern California and Princeton University.
Artist Statement:
Within each of us, in our moments of struggle, in our depressions and our ennui, in our private collapses into vulnerability and potentiality, comes a voice that offers resolution and clarity. This voice can be stern. It can be unyielding. It can be calm, and warm, and vital. This voice can be true, but it can also be untrustworthy. It can be vicious and blind and dangerous. Who does this voice belong to, and to whom is it speaking? The You Voice is an investigation of the perspective, position and performance of this ubiquitous aspect of our minds.
In the years of the pandemic, I experienced an unprecedented inability to work, write, proceed past a blockage. During this time, I met a seemingly unending stream of emerging talents in theatre, television and film who shared similar experiences. The lack of a conventional script to begin a creative process often exacerbated a self-critical inner voice. Instead of engaging in self-punishment, I reached out to nine of these women to create a piece that attempts to transform the self-pity and lack of identity surrounding "not-working" into work itself. Over the course of three months in Los Angeles, New York City, Mexico City and Berlin, the sessions were recorded and edited for this installation.
Performers:
Sarah Jones is an American actress based in Los Angeles whose prolific work in television can be found on HBO, Apple TV, Netflix and Disney+ with leading roles on such Emmy Award winning shows as Sons of Anarchy, Vegas, For All Mankind, Damnation, Big Love, The Path and Alcatraz.
Jely Reátegui is a Peruvian actress based in Lima and New York City. In South America, she has starring roles in feature films such as Hotel Paraíso, Backpackers and The Best Families. Her television work on series such as Los Cinéflos and La Reina de las Carretillas brought her to the United States to pursue a crossover into American cinema.
Alina Stiegler is a German actress, writer and director based in Berlin, whose work with legendary German theatre director Thomas Ostermeier has won numerous awards and international acclaim in productions such as Youth Without God, Im Herzen der Gewalt (History of Violence) and Abgrund. She has been a member of the seminal Schaubühne ensemble since 2015 and recently starred in HBO's Dogs of Berlin.
Naian Gonzalez Norvind is an award-winning Mexican actress and writer based in Mexico City, who can currently be seen starring in HBO's hit comedy Amsterdam and in her vaunted feature writing debut, Leora. Naian is has been a mainstay on the international theatre scene for years and most recently appeared in Richard Nelson's Illyria and Peter Friedman's Hamlet.
Sekai Abeni is an American actress and visual artist based in New York City whose training at The Juilliard School has led her to work with such writers and directors as Jeremy O Harris and Demaso Rodriguez in Exiles, A Bright Room Called Day and A Raisin in the Sun.
Matilda Sakamoto is a Japanese-American actress, dancer and choreographer based in Los Angeles whose debut directorial effort If I Sound Happy, That's Your Mistake has won awards at festivals such as DCW and Phoenix Dance Festival. She made her acting debut at the Public Theater in the world premiere of The Michaels and the Michaels Abroad, by Tony Award-winning playwright/director Richard Nelson, which was chosen as The New York Times "Critics Pick," and nominated for a Drama League Award.. She received a BFA in Dance from The Juilliard School and was a 2020 Ann & Weston Hicks Choreographic Fellow at Jacob's Pillow.
Alaina Surgener is an American actress based in New York City who made her feature debut in Danya Taymor's Plano, originated the role of Dorothy in Rosalie Lowe's Lost Girls in 2019 and appeared most recently in Derrick Belcham's "3 Hours of Alaina Doing Krapp's Last Tape" at Mana Contemporary in 2022.
Grace Rex is an American actress and filmmaker based in New York City who can most recently be seen playing opposite Adam Scott, Patricia Arquette and Christopher Walken in Apple TV's TCA Award-winning Severance and starring in Channel 4's High and Dry in the UK.
Mallory Gracenin is an American actress and producer based in New York City who can regularly be seen in the award-winning immersive theater productions Sleep No More and Eschaton.
Stay updated on Mana Contemporary's upcoming exhibitions, events and more by subscribing below.
---