Microsoft AI Latino Immersion Program Reaches Successful Ending
Everything you need to know about what happened during this groundbreaking AI accelerator initiative.
Nov 16, 2023 · 3 Minute Read
---
We cannot say it enough, Mana Tech is beyond excited about this partnership with Microsoft and Microsoft for Startups. They welcomed 19 artificial intelligence startups across Latin America to join this revolutionary hybrid accelerator program. We opened the doors to hard working innovators for three weeks of online training and one in-person immersive week in Miami, Florida. Now that the program has concluded, let's can recap the highlights.
On the evening of November 5th, the journey began as Mana Tech hosted a welcome dinner, marking the inagural in-person gathering of founders, mentors, and the team. The Microsoft for Startups team offered inspiring words to these innovators, urging them to take advantage of their time in Miami and leverage the dedicated individuals here to support them.
Special thanks to our hosts from Microsoft for Startups, Wilson Pais and Mariano Amartino, for believing in Mana Tech and our mission to elevate Miami as the next global entrepreneurial tech hub, fostering connections across diverse countries and cultures.
Throughout the week, founders eagerly absorded knowledge to learn from each other and our guest speakers and mentors, such as Matt Haggman, Valérie Derome, Jeff Abbott, Fernando Cariello, Ariana Pareja, Lalo Steinmann, Bo Megginson, Francisco Guzmán, Craig O'Sullivan and, Toby Crabtree. They also had the privilege of attending online lectures from esteemed names in the tech industry, including Reid Hoffmann, Chris Yeh, and Ignacio López.
On Wednesday, founders had the honor of meeting with Moishe Mana, Founder and Chairman of Mana Common, and Francis X. Suarez, Mayor of Miami. Mayor Suarez shared invaluable insights with the entrepreneurs, highlighting the significance of their endeavors and acknowledging the immense value embedded within their hard work. Afterward, Mana Tech, in partnership with PAGLaw, hosted a happy hour where special guest Jose Gomez Cueto, General Manager at Microsoft, delivered some remarks underscoring the incredible progress made by the founders and Microsoft's commitment to their ongoing growth.
On Thursday, the founders participated in a Wim Hof Method Breathwork session guided by Donato Helbling, Founder of Integrative Living. At Mana Tech, we understand that being an entrepreneur can be stressful and draining, so we prioritize a healthy, balanced life and invite entrepreneurs to practice turning off screens and being present with themselves and others. On Friday, the founders delivered lightning pitches in a speed-dating style session to the Demo Day judges, aiming to secure a chance to present a full pitch at Demo Day later that night.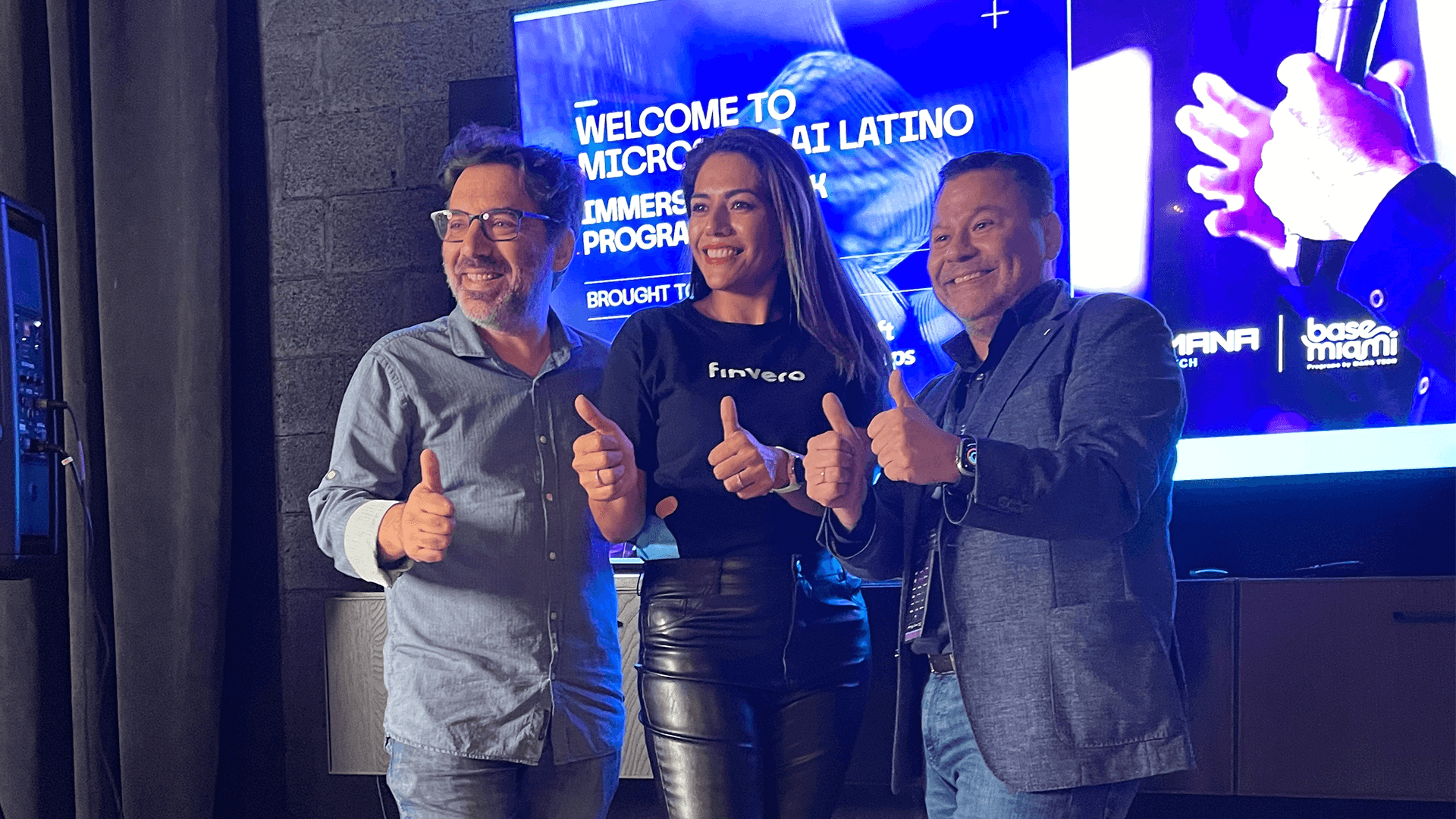 From left to right: Mariano Amartino, Erika Quezada, and Wlson Pais
The program concluded with an exceptional, curated Demo Day, during which Erika Quezada, COO and Co-Founder of Finvero, was announced as the winner. Special recognition goes to the exceptional team at Codelex by Simplex, honored by their peers with the prestigious People's Choice award.
As we draw the curtain on this program, celebrating innovation and collaboration, we look forward to what the future holds for these exceptional entrepreneurs. Check out the full recap video and gallery to experience firsthand the highlights of the Microsoft AI Latino Immersion Program.
---